The following article appeared in the Daily Citizen in Beaver Dam, Wisconsin, where Annie went to high school. It is used here with Aaron's permission.
Bright Star Extinguished
Wayland alum killed Sept. 11
By AARON HOLBROOK Managing Editor
Ann Nelson made a practice of whipping her mother, a teacher, at Scrabble and then dissecting the way the game was played. "First she would beat you and then she would tell you why you lost," Jenette Nelson said of her daughter. But the young woman was so easygoing, that the lessons went down smoothly. "Ann had a favorite word "affable" and I think it described her very well," Jenette Nelson said. It was that friendly, competitive drive that led Nelson to Wayland Academy in Beaver Dam for her junior and senior year of high school. That spirit helped her land a job as a bond trader in New York, where she was killed at age 30 in the Sept. 11 attacks on the World Trade Center. "She was dynamic," said John Patterson, a recently retired English instructor from Wayland, who fondly recalls the friendship he had with Nelson. Patterson was a mentor to Nelson through a Wayland program that establishes mentor groups with an instructor acting as mentor to the students. "You become a little family," Patterson said. Patterson recalls that Nelson quickly took a lead role in the group, helping to draw out quieter students and to quell arguments. She was the sort of student who was not afraid to approach the school administrators and offer her advice or insight, according to Patterson. "Shortly after this whole thing happened a strange idea came to me; I thought, It's too bad Ann Nelson didn't get a chance to talk to those people in the airplane," Patterson said. He also recalls Nelson as an excellent student and friends recall in tributes to Nelson that she was athletically gifted excelling in downhill skiing and picking up tennis while at Wayland. "You could just sort of tell Ann was going to go far," Patterson said.
Ann Nelson did go far from her small town roots in Stanley, N.D., population 1,000. She started by convincing her parents Gary and Jenette to send her to Wayland Academy, 12 hours away. "Her dad and I didn't want her to go to Wayland," Jenette Nelson said. But calls from teachers and friends Ann quickly made helped convince the couple it was the right thing to do. After high school, Nelson graduated with honors from Carleton College in Northfield, Minn. with a double major in Economics and Political Science. "She was a very hard worker," Jenette Nelson said. She added, "Ann loved adventures." While at Carleton she studied abroad in Cambridge, England and China. She quickly landed a job as a bond trader with Dain Rauscher in Minneapolis, eventually moving to Chicago working for the same firm. A sense that it was time for a change led Nelson to resign her position and embark on a solo backpacking trip in Peru in 2000. She returned from the trip with her sights set on New York. Landing a job at Cantor Fitzgerald as a bond broker allowed her to realize that dream. She worked on the 104th floor of the World Trade Center Tower One.
Patterson didn't know Nelson was working in New York at the time of the Sept. 11 attacks. Like everyone, he had seen the news reports of the attacks on the World Trade Center. He was informed where Nelson worked the day after the attack by Dr. Bill Ellis, a former Wayland Academy president. Ellis had seen Nelson's father Gary in New York while attending a conference a short time prior to September. "It really came as a blow," Patterson said. "Once I had heard this, it was very hard to go back to class." It still is hard for Patterson to talk about Nelson and her death. He doesn't like to view the actual attack. "What bothers me is that when I see that, immediately I think of Ann and I think of her on the top floors," Patterson said. "I don't object to being reminded of this, because I think we need to be reminded." Jenette Nelson agrees. "I do think it's important to keep Ann's memory alive,"Jenette Nelson said. To do this, she has been speaking to small local groups about peaceful conflict resolution. That is also the topic of a class she is teaching this year. On Sept. 11 she spoke in Bismarck, N.D. at a ceremony at the state capitol. "There has to be some good to the way Ann died," Jenette Nelson said, "because we paid such a terrible price."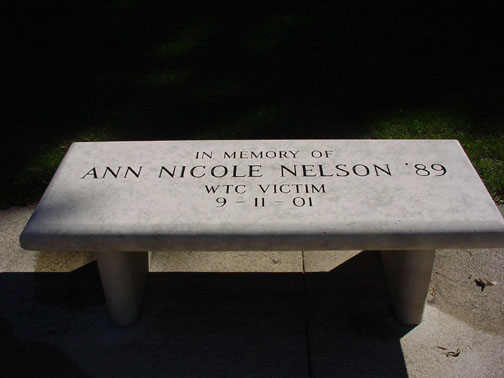 Wayland Academy dedicated a bench in front of the school's library as a memorial to Ann Nelson in a ceremony on Oct. 11.